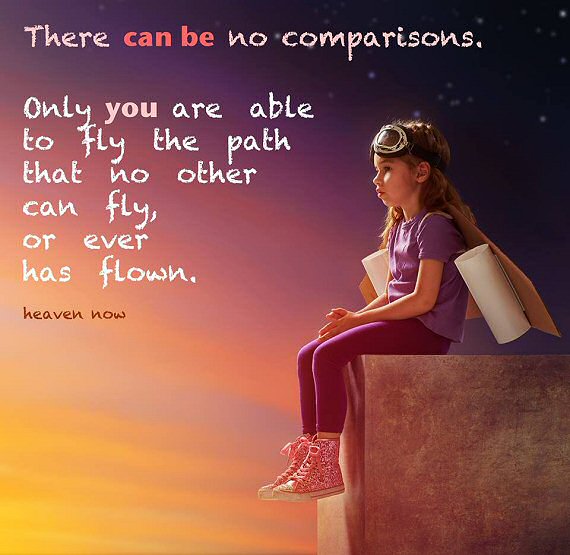 Dearest Child… Comparisons of one person to another are illogical and I will tell you why.
In truth, it doesn't matter what one now knows or doesn't know … or how beautiful one now is compared to another … or the amount of wealth one now has accumulated compared to another.
To help you understand … think of kindergartners comparing the length of their coloring sticks. Colors may appear quite important to 5 year olds but what significance do they have when one is in graduate school?
You see, child, we are just beginning to see who we are, yet we are still partially blind. We are still seeing illusions that don't exist. One of them is hierarchy.
Hierarchy doesn't exist in the realms you are going.
What occurs once we realize who we are is that we know, with no doubt or hesitation, that we are able to fly a path that no other can fly, a path that no other has flown.
There cannot be hierarchy, there cannot be better or worse… there can be no inequality — of any kind — in a path that only one is able to fly like no other being can ever, or has ever flown.
— Heaven Now