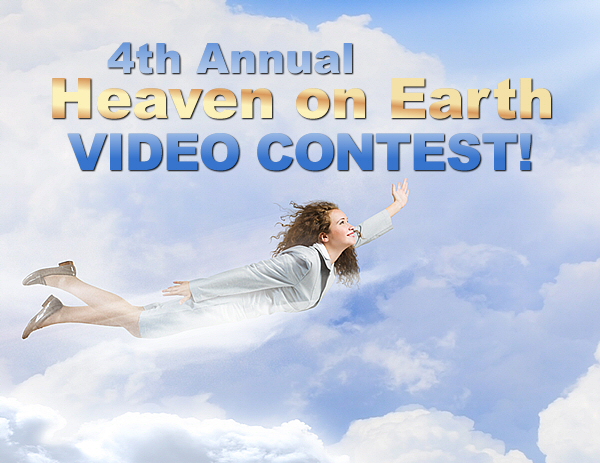 Please Note: This year's contest has ended. We are continuing to display the rules page for anyone interested in reviewing them.
What would Heaven on Earth be like if anything was possible?
Submit a video of your most incredible vision!
The Grand Prize is $5,000 with more than 20 additional cash prizes!
Our judges are looking for a 2-5 minute, nonreligious video that can open up people's minds to "Heaven on Earth" occurring in our Real World. Your video will offer a vision of what the ultimate experience would be on Earth. Your video will help open the doors of imagination to this new world, and will ideally enable others to think "I want that!" Vision and desire is what makes the ultimate world possible!
Contestant's entries are accepted from November 1, 2017 Pacific Time through January 21, 2018, midnight Pacific Time (i.e., California time). Anything is indeed possible!
Consider entering AND voting for your favorites! (See dates below for entering and voting.)
This is a totally non-profit venture brought to you by the Teitelbaum Family Foundation.
How to Win This Video Contest
The BEST way to get a sense of what wins this video contest is to LOOK AT the previous years' winning videos (see 2017 winners, 2016 winners, and 2015 winners) and move it to the next level of no limits.
In your video, consider creating (the contestant doesn't need all to win, yet we encourage the first four ideas):
Entertainment value: This is important, as the winners are often the ones that are wished to be watched repeatedly.
Heart Feel: This is important as the winners are often the videos that make the viewer's hearts open, even to be moved to joyful tears.
Joy, passion and/or bliss in living our life on Earth.
An ability to help others see an optimistic future.
An inspiration for others to enjoy life to the fullest.
An understanding that ABSOLUTELY ANYTHING is possible in the real world—Beyond Imagination.
Express with your heart: "What comes from the heart goes to the heart." The winners often express an idea, even if it's only one idea, in a way that makes others open their hearts immensely.
Rules
This Heaven on Earth Video contest is sponsored by the Heaven Now Project ("Sponsor"), an initiative of the Teitelbaum Family Foundation. By entering this contest you agree to all of the terms and conditions. This contest is VOID WHERE PROHIBITED BY LAW.
IMPORTANT: Your video must end with a screen shot displaying the following text for a duration of at least 8 seconds: "Produced for the Heaven Now Project Competition. Heaven-Now.org."
The optimal length of video submissions is 2-5 minutes. Up to 6 minutes in length will be accepted. Video resolution should be a minimum of 720p and in one of the following formats: MPG, MP4, AVI, WMV, H.264, MOV or FLV. Language must be in English.
Any contestant who wins an award must send Sponsor a copy of their video using a file sharing service such as Dropbox (dropbox.com) or Hightail (hightail.com), or via a physical USB memory stick (that would not be returned). Winners will be notified of the email address or shipping address that the videos are to be sent to. Receipt by Sponsor of the winning video is required before an award will be sent to the contestant. The contestant's video will not be changed and contestant will have full copyright to contestant's work.
Contestants must upload their video entry to YouTube and then use the resulting YouTube link as the method for submitting their video to our contest. (Please note that you must comply with YouTube Community Guidelines. Entries in violation of these guidelines will be disqualified.)
The video may display production credits before the final screen shot described in Rule 1.
The video must be produced for an English-speaking audience.
Contestants must be 13 years old or older at the time they enter. The entries of contestants under 18 years of age must be accompanied by a parent's signed release before a prize can be awarded (you can download a blank release form here).
Contestants must have legal rights to use all video and audio clips contained within their entry. If the contestant uses any video or audio clips that aren't their own, the contestant must state in the video description (located in the contest entry form) where the clips were legally obtained (e.g., name of stock video and audio company or website, such as videoblocks.com, music2hues.com; or from Mechanical Rights Licensing Companies, such as Toonswoon Easy Song Licensing; or from Wikimedia; or from creativecommons.org; or any other source).
Contestants agree that the Sponsor's decisions on all matters related to this contest are final, and they accept them as such and waive all rights to any legal recourse.
Judges will be assigned by the Sponsor.
Video entries may not contain anything that violates anyone's reasonable privacy expectations, violates any known agreements, violates any copyrights or trademarks, or depicts anything that is defamatory in nature.
Contestants retain all rights and copyright to their video entries, but agree that the Sponsor has the right to use, reproduce, reprint, distribute, and display the video for any Sponsor purposes, including disseminating information, without notification, or consent. Most uses will likely not entail financial compensation, but if there is any compensation, it will be shared by the Sponsor and contestant who created the video.
Contest Phases
The 4th annual Heaven on Earth Video Contest is comprised of two separate phases.
1. Online Voting Phase
Videos will be available for public viewing and public voting at Heaven-Now.org. We encourage contestants to invite all of their friends to vote for their videos. Voters can vote up to once each day for as many videos as they like.
NOTE: Sponsor reserves the right to disqualify any video if, in Sponsor's sole judgment, a contestant is determined to be responsible for "fraudulent" voting. Fraudulent voting includes casting votes through use of email accounts created by (or on behalf of) a contestant for the primary purpose of voting in this contest (i.e., "stuffing the ballot box"), or other techniques deemed by the Sponsor to be contrary to the fair spirit of this contest. Note that daily voting as described in the previous paragraph is perfectly acceptable and not considered fraudulent.
2. Judges Voting Phase
Judges vote for their favorite videos using a point system and their excitement about certain videos. The judges do not consider the results of the online voting phase in this process.
Prizes
Winners of Judges Picks (10 prizes):
1st Place $5,000
2nd Place $1,000
3rd and 4th Place $500 each
5th and 6th Place $250 each
7th through 10th Place $100 each
Winners of Online Voting Phase (8 prizes):
1st Place $1,000
2nd Place $500
3rd Place $250
4th through 8th Place $100 each
In the event of ties, the two winners will share the prize as well as the next place price (e.g., if there is a tie for 1st place in the judges picks, the two winners share the prizes for first and second place and therefore would split the $5,000 prize plus the $1,000 prize to be given $3,000 each). Judges attempt to avoid ties. Sharing only occurs with an impasse among the judges and there will be no more than two contestants who share one prize. Contestants can win more than one prize if they win a prize from different phases.
How Videos Will Be Judged
The judges will review all submissions and rate them according to a point system and their overall excitement about certain videos. Points will be based on:
How well the video applies to the goals of this contest (see our home page for information regarding the goals of this contest).
How the video encourages others to feel hopeful about the future and think "I Want THAT!"
The overall joyful, uplifting, thoughtful and inspiring feeling of the video.
How engaging the video is and how likely others would want to watch the video repeatedly.
The technical quality of the video.
Key Dates
Enter early for more online votes!
November 1st, 2017: Start date for entries to be accepted into the contest.
January 21st, 2018 midnight Pacific Time: Final time entries are accepted.
January 30th, 2018 midnight Pacific Time: Online voting ends.
January 31st, 2018 midnight Pacific Time: Contest website closes.
February 14th, 2018: Winners are announced and winning videos are displayed at Heaven-Now.org and the Heaven Now Facebook page.
Winner Notification
Contest winners will be notified by a traceable form of delivery, email or telephone. If attempted notification is returned as undeliverable, if a winner's identity cannot be verified, or if a winner is otherwise unavailable to accept a prize, the prize will be forfeited and may be awarded to an alternate entrant.
Disclaimers
YouTube is not a sponsor of the Heaven on Earth Video Contest. Contestants agree to release YouTube from any and all liability related to this contest.
Privacy Notice
Our pivacy policy ensures proper protection of your personal identity as applied within this contest. See our Privacy Notice.