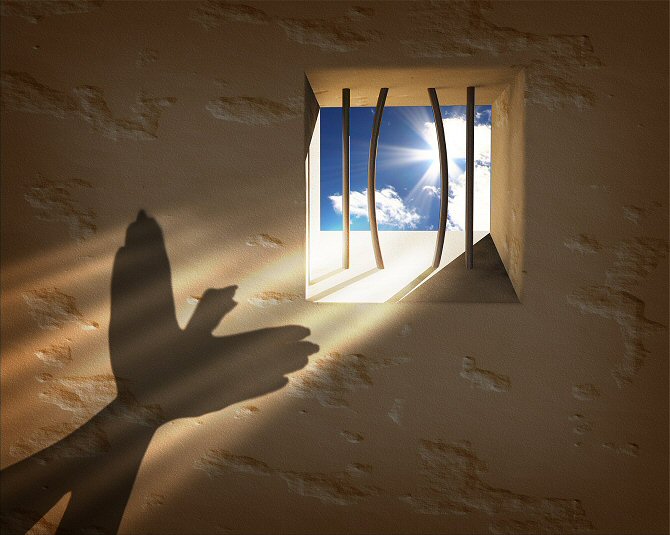 Plato's Cave is an allegory, written by the ancient Greek philosopher Plato, describing a group of people who lived chained to the wall of a cave for all of their lives. These people spent their days watching shadows projected on a blank wall. These shadows were actually animals and people passing in front of a fire behind them, however to these prisoners, these shadows were all they knew about life. 
There were some prisoners who had been freed from this cave and came to understand that the shadows on the wall did not constitute the whole of reality at all.  Once free it didn't take long for the prisoners to see the light outside of the cave. However, the prisoners who had never known freedom had no reference for understanding anything but the shadows, so they had no cause to desire leaving the cave.
The world we are living in with all of its beauty may not appear to us to be similar to life in a cave. However, if we would see a glimpse of an alternate reality, such as the reality of living in Heaven on Earth, we may change our minds.  The difference between living in a cave chained to a wall and freedom from the cave may seem like a huge difference in lifestyle.  However consider the possibility that the difference is even greater between living in the world as we know it and living in a world that is like Heaven.
To see this visually: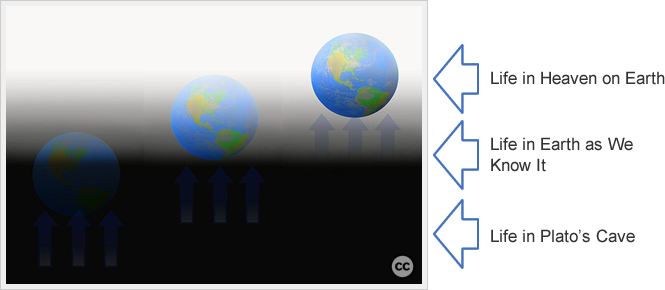 Have you seen outside of our "cave"?  If so, please comment on this blog!
I have been given the gift of a glimpse of life outside the shadows we are accustomed to living.  I've climbed up the mountain that our cave is sitting on and looked over the horizon… and what is coming is outstanding! I invite you to come and share this vision with me… and also with each other, and exclaim:
"Look at how magnificent it is outside of our cave!  Let's go there!"
…And the great part is that all we have to do is ask for it!