Over $6,000 in Cash Prizes – ENTER AND VOTE!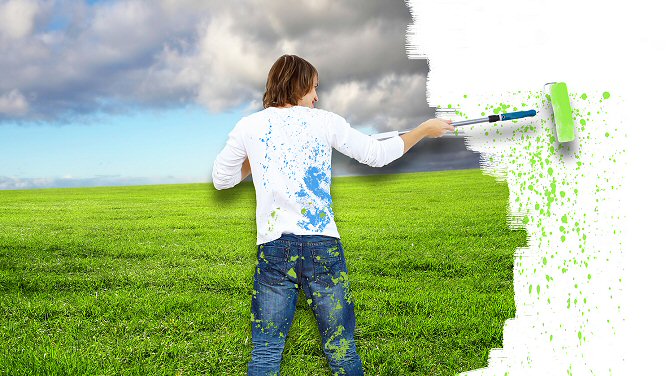 Everything that can be imagined is possible… Therefore, as we broaden our imaginations, our possibilities are endless.
Change is rapidly accelerating and things never dreamed of in most of human history are becoming commonplace. This accelerated rate of change suggests that even faster and more exciting changes may be in our near future.
Teachers have recently begun helping an increasing number of people come to realize that we are all directly in control of our experience and our future through exercise of our thoughts, beliefs and intents.
We invite you to open your mind to the possibility that our world can transform to a place as wonderful as can be imagined, a place we like to call Heaven on Earth.
Wait, is Heaven on Earth a valid possibility? We think yes.
"Heaven on Earth" is not only the ideal result of technological growth, but also the ultimate result of our spiritual growth. It is a concept described in many traditions around the globe. Some call it enlightenment… some call it nirvana… some call it samadhi… while others simply recognize it as the state they feel in nature or art. In all of these, people feel a sense of complete connectedness, oneness, and acceptance.
What is the first step for heaven on earth to become a reality? For the possibility to be introduced to the world in a way that captivates them and prompts them to think "I want that!" THAT is what we are looking for from your video.
Q: What are the judges hoping for with the winning video?
A: Video entries may be any length you like, though about 2-15 minutes is what we expect most to be.The judges are looking for a non-religious (spiritual is OK, but non-sectarian) video that will open up people's minds to heaven on earth being a possibility in our real world. It can be an abstract story. It can be a narrative. It can be anything.
Read the analogy of the door and Plato's Cave vs. Heaven on Earth for good explanations of the purpose of your video. Also consider looking at Paradigm Shifts and World Transformation and Sample Ideas for Your Heaven on Earth Video to give you ideas for your video.
Your video will offer a vision… your vision, of what the ultimate experience would be on earth. Your video opens the door slightly, enough for others to think: "I want that!" This analogy is for you, the videographer, to help you understand the concept we are looking for — of people seeing new possibilities that awaken them. In the video, you can use any analogies, or none, or any way you would like, to help people see new possibilities that will excite them!
There are infinite possibilities. Let your imagination and creative juices flow!
Messages to convey with your video:
Heaven on Earth will be an incredible experience (forget those old boring images)!
Heaven on Earth is a reality that is possible NOW.
Heaven on Earth can happen easily and gracefully (no catastrophe needed).
Heaven on Earth is for absolutely everyone!
Become a part of this important quest. Help bring Heaven on Earth to our world!
IMPORTANT: Some prizes are based on the number of votes your video receives. To give yourself the best opportunity for a high vote count, you should try to submit your video as soon as possible.
Official Rules
BY ENTERING INTO THIS CONTEST YOU ACKNOWLEDGE AND AGREE TO THE FOLLOWING TERMS AND CONDITIONS ("OFFICIAL RULES").
VOID WHERE PROHIBITED BY LAW.
This Heaven on Earth Video contest ("Contest") is sponsored by the Heaven Now Project ("Sponsor"), an initiative of the Teitelbaum Family Foundation.
Submit your video at the Live Video Contest page.
Contestants are free to post their video on other websites as they choose.
Voting period closes on January 21, 2015.
Winners announced on February 1, 2015 and posted on the contest web page and the Heaven-Now.org website.
Prizes awarded during the week of February 1st, 2015.
Prizes and Judging
Fifteen videos will be awarded prizes. The 1st, 3rd, 5th and 10th-15th place winners will be chosen by a panel of judges appointed by the Sponsor. Vote counts will influence the judges choices for these three winners, but will not strictly determine who is selected. The 6 other winners (2nd, 4th and 6th-9th places) will be determined solely based on their ranking by the number of votes they each received.
Prizes amounts are as follows:
$3,000 1st place
$1,000 2nd place
$500 3rd place
$500 4th place
$100 each 5th through 15th place
We are excited to announce two distinguished members of our judging team, Guillermo Navarro and Steven Parente.
Guillermo Navarro is the Director of the School of Digital Filmmaking at University of the Nations. Mr. Navarro is a multiple award winning writer, director and producer of independent feature films with an extensive and diverse career working in the film and television industry. Read more …
Steven Parente is an animator, designer, illustrator, and multimedia artist with four years experience in animation and 3D graphics and video production. Mr. Parente has over 14 years experience in directing advertising, marketing and public relations, and 12 years experience teaching digital graphics and art classes with the Department of Education and University of Hawaii Community College. Read more …
Ownership and Credits
Contestants retain all rights and copyright to their video entries, but grant the Sponsor permission to also use the video.
Contestants agree that the Sponsor has the right to use, reproduce, reprint, distribute, and display the video for any Sponsor purposes, including disseminating information, without notification, consent or compensation by the Sponsor to the Contestant.
Eligibility
Contestants are required to have read these Official Rules and, by submitting a video to the Contest, affirm they are in agreement with these terms.
The Contest is open to those 13 or older at the time of entry (under 18 must be accompanied by a parent's signed release before a prize is awarded).
Void anywhere where prohibited by law.
Contestants must have personally created and produced their video entry.
Contestants must obtain a written release from each person who has a speaking role or is otherwise distinctly featured in the video, as well as those involved in the production of the video. This authorization assures that those involved know that the video may be shown publicly without further consent required. The release(s) must accompany the submission form and video. It must be signed by the participant(s), and if the participant is a minor it must be signed by the participant's parent/guardian. (Download the Heaven on Earth Release Form.)
Contestants agree that the Sponsor's decisions on all matters related to this Contest are final, and they accept them as such and waive all rights to any legal recourse. Judges will be assigned by the Sponsor.
Employees of the Sponsor, Contest judges, and family members of either are not eligible to enter the Contest.
Video Technical Requirements
Video entries may be any length you like, though about 2-15 minutes is what we expect most to be. Video resolution should be minimum 720p and in one of the following formats: .MPG, .MP4, .AVI, .WMV, H.264, .MOV or. FLV. Language must be in English.
The video may display production credits at the end of the video.
The video should be produced for an English-speaking audience.
Entry and Voting Phase (Mar 24, 2014 Through Jan 20, 2015)
To enter the Contest, visit the Live Video Contest page and create your contest account. Follow the instructions shown to upload your video and any supporting documents that may be required.
All entries must be submitted by Jan 20, 2015. Keep in mind that some prizes are awarded due to votes. The earlier you enter the more likely you will receive votes.
Public voting will be accepted online at the Live Video Contest page from March 24, 2014 through Jan 20, 2015. Scoring will be determined as described above under "Prizes."
Winner Notification
Contest winners will be notified by a traceable form of delivery and email or telephone. If attempted notification is returned as undeliverable, if a winner cannot be verified, or if a winner is otherwise unable to accept a prize, the prize will be forfeited and may be awarded to an alternate entrant.
Other Rules
(i) Video entries may not contain any image or depiction of the following: materials that violate anyone's reasonable privacy expectations, violate any known agreement, or that are defamatory in nature. (ii) Sponsor reserves the right to disqualify any entry which Sponsor, in its sole discretion, determines to be inconsistent with the letter or spirit of the Official Rules or potentially damaging to its, the Contest's, or another's image or reputation. If disqualified, Contestant will be sent an email to the email address listed in Contestant's account explaining why the video was disqualified. Contestant may then alter the video to resolve the stated issues and resubmit it (possible reasons for disqualification include inappropriate use of violence, sexuality, privacy violation or any type of discrimination). (iii) Sponsor may add an opening and/or trailing graphic or short video sequence to each winning video for the purpose of identifying it as a prize winner of the Heaven on Earth video contest.
Additional Information
CONTEST VOID WHERE PROHIBITED BY LAW OR NOT MEETING LOCAL REGULATIONS. ALL NATIONAL, STATE AND LOCAL LAWS AND REGULATIONS APPLY.
These Official Rules can be found at www.Heaven-Now.org/heaven-on-earth-contest. They can also be printed from this page using the "Print" button below.
Feel free to submit any questions to us through the contact page at this website.